Deep Learning Attenuation Correction
A Breakthrough in SPECT Myocardial Perfusion Imaging
Spectrum Dynamics has developed an Artificial Intelligence (AI) methodology for attenuation correction for its D-SPECT® Series cardiac camera. It's another innovation from Spectrum Dynamics to truly transform nuclear cardiology
.
TruCorr Adresses the Challenges Created by Attenuation Artifacts
TruCorr is a revolutionary approach that uses Deep Learning to generate attenuation corrected myocardial perfusion images. This new capability for the D-SPECT Cardiac Digital SPECT improves image quality and integrates seamlessly with the existing Myocardial Perfusion Imaging (MPI) existing workflow.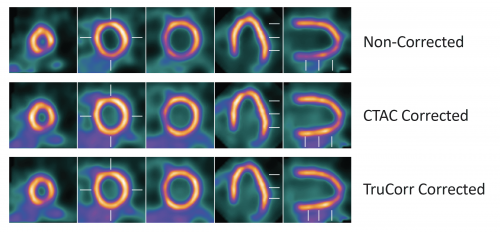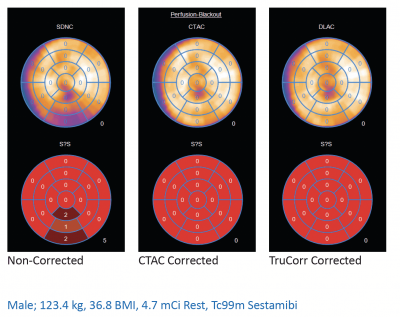 A Patient-Centered Innovation for D-SPECT That Improves Accuracy and Ease of SPECT Imaging
Enhance the value of SPECT in myocardial perfusion imaging with CZT-based images corrected with TruCorr. TruCorr is based on the patient's SPECT myocardial perfusion emission data and offers a more convenient and efficient attenuation correction process for both clinicians and patients.
With TruCorr your practice will gain more time and resources to dedicate where they are needed most, as well as more accurate imaging to guide care decisions.
Deep Learning Attenuation Correction (DLAC) Methodology
TruCorr is based on a convolutional neural network (CNN) that was trained to correct reconstructed emission data. It uses only the SPECT data from a single acquisition, with no CT or Gd-153 transmission scan required or additional time beyond D-SPECT standard clinical protocols.

Seamless Workflow from Acquisition Through Image Review
In the integrated TruCorr workflow, the TruSPECT workstation does all the work, generating deep learning attenuation corrected (DLAC) datasets for you to review in your preferred image viewing program.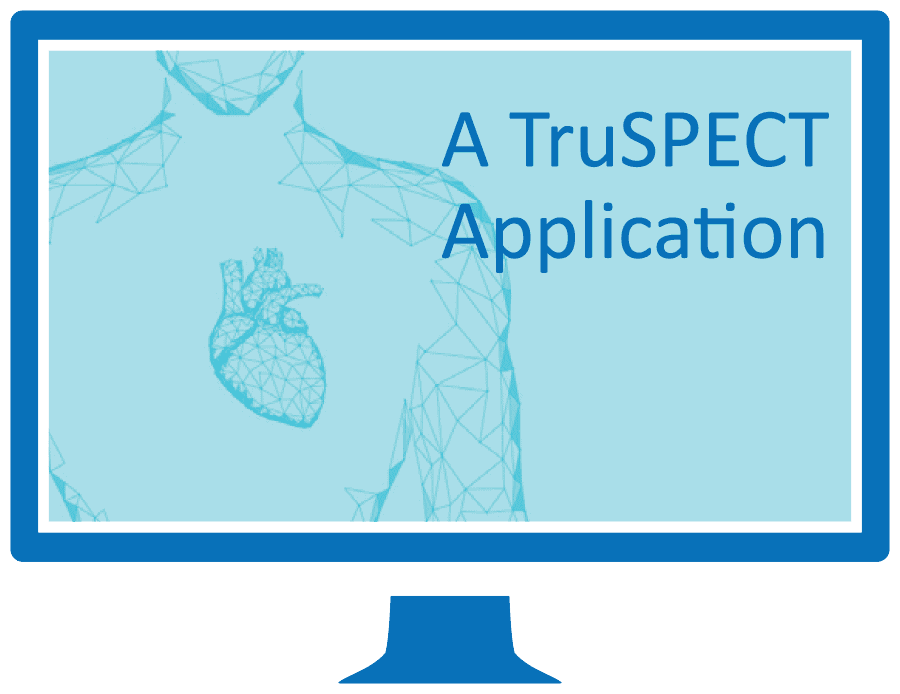 TruSPECT Workstation Integration: Apply TruCorr and generate attenuation corrected images by using the workflow integrated in the D-SPECT Workstation.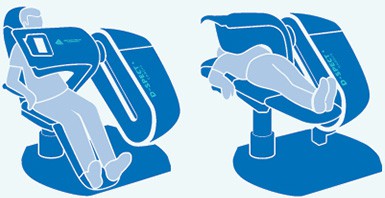 Flexible Patient Positioning: Utilize TruCorr in supine or upright patient scanning positioning.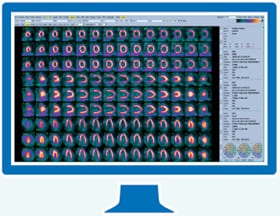 Easy-to-access results: Review images using your preferred cardiac analysis software, such as 4DM or Cedars.
3 Simple Steps to Improved Image Quality:
Step 1: Select the patient folder.

Step 2: Select the dataset for attenuation correction.

Step 3: Click the TruCorr button. 

Reconstruction starts immediately and the system generates attenuation corrected myocardial perfusion images quickly and easily.
Stress/Rest
Female; 64.4kg; 24.2 BMI
4.4mCi/4.3mCi
162.8MBq/159.2MBq
Stress/Rest
Female; 91.7kg; 37.0 BMI
5.1mCi/21.3mCi
188.7MBq/788.1MBq
Stress/Rest
Male; 63.1kg; 21.8 BMI
4.1mCi/15.8mCi
151.7MBq/584.6 MBq
"In our experience, it has dramatically reduced the perceived necessity to proceed with a rest image. It created greater uniformity in the images such that normal is easy to recognize and we can confidently say no, this patient does not need to go on to have a rest image."
Co-Director, Cardiovascular Radiologic Imaging, Mid America Heart Institute Professor of Medicine, University of Missouri-Kansas City, Kansas City, Missouri
"Our initial experience with TruCorr attenuation correction has been encouraging. We have obtained marked improvement in image quality compared to uncorrected images."
Marvin W. Kronenberg, M.D.
Director Heart Station and Nuclear Cardiology, Vanderbilt Heart and Vascular Institute.
Innovations that Transform SPECT Cardiac Imaging
Fifteen years after the introduction of the first digital SPECT cardiac camera, Spectrum Dynamics continues to set the standard in digital SPECT imaging. Through close collaboration with the brightest minds in nuclear medicine – our customers – we have created a true paradigm shift in design, workflow and diagnostic capabilities. We're continuously expanding our offerings, scanner features, and functionalities to ensure efficient clinical workflows and an optimal patient experience. We are proud of our reputation for building authentic partnerships supporting original research.